Creating a MOOC : 5 tips to know
Distance learning is now part of most learning paths, whether in business, education or personal development. The number of online courses – or MOOCs – is constantly increasing. Among thousands of educational videos, everyone has the choice to learn independently and with great freedom, whatever the activity or profession. This abundance of content offers a range of tips to make your own videos more engaging! Gathering the following 5 conditions will undoubtedly allow you to create a great MOOC:
Video length: it is better to break a MOOC into 6-minute clips
Although online courses are becoming more and more normal, the difference in perception between a physical course and a MOOC is still relevant. The analysis of Philip Guo, assistant professor of Computer Science at the University of Rochester, highlights this, showing that a traditional class can last up to 1 hour. On the other hand, the attention span of a learner watching a video decreases considerably after 6ème minutes.
This is often due to the lack of dynamism or attractiveness of the content viewed. Contrary to a classroom where the direct environment contributes (or not) to the concentration of a learner, the consultation of a MOOC does not solicit all the senses but only 2 of them. Moreover, the variety of video formats and durations makes it possible to adapt the formats and durations of videos according to the intended uses.
Tip: Nevertheless, thanks to the recording from a Rapidmooc studio, the instantaneous and very easy integration of video effects allows to overcome this lack of attention to play on the codes of cinema, where the teacher can reveal his acting talents! MOOCs thus become more stimulating and prolong attention, making it possible to extend the length of the videos, if necessary.
The trainer must be on - at least - 75% of the MOOC videos
Let's go back to the meanings used when watching a video :
In order for the rhythm of your video to be based on this balance, it is therefore essential to appear on your course. A successful and engaging MOOC is first and foremost carried by an embodiment, i.e. alive. Also, non-verbal language is a key factor of success in the attractiveness of a video. Find our advice on your body language here (link to the body language article)
That said, it's understandable not to want to constantly appear on your course. It's okay to take a back seat at times to value lecture, reflection, and silence (a professor doesn't spend the entire hour talking continuously in a classroom!). That's why we recommend following the ¾ – ¼ rule. At least 75% animated and instructor-presented parts, to be distributed according to the sequencing of the course. This basis ensures that attention is regularly renewed, if not constant.
Then, it is important to play on the colorimetry of the elements presented, their movements, their speed and their proportions, in order to create an immersive content, whose experience is entirely on the video. If the MOOC is sufficiently captivating, the viewer is able to forget about his surroundings.
Tip: Thanks to specific recording modes, Rapidmooc studios allow this inlay in many ways and with inventiveness! It is also very easy to disappear as quickly as you appear on the video, thanks to the setting of a fade effect on the tags of the digital prompter.
Close up : not too close, not too far
Now that we have seen that it is crucial for the trainer to embody his or her message, it is time to discuss good practices regarding his or her positioning. Typically, the MOOC speaker positions himself:

Since the goal is for both parties – the learner and the trainer – to have a "comfortable" experience, it is best to keep the presenter's gestures and gaze visible, but not overly prominent.
There is no need to focus on the trainer or to make him/her stand out from the crowd. 
Since the goal is for both parties – the learner and the trainer – to have a "comfortable" experience, it is best to keep the presenter's gestures and gaze visible, but not overly prominent.
There is no need to focus on the trainer or to make him/her stand out from the crowd. 
MOOCs background and decor : Basic VS Advanced Design
What about the content? The course material used? All types of staging are possible, but some are used more often:
Monochromatic background : no particular background design, plain color to better highlight the speaker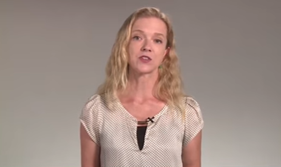 Landscape or background: a classic in video speeches seems to be the use of landscape photos or static scenery, such as a bookcase full of books, probably to remind the studious spirit of the discussion… However, don't hesitate to be creative to bring an immersion effect!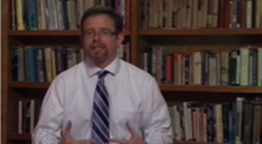 Powerpoint presentation: because it is the easiest tool to use to design colorful and airy slides, most MOOCs rely on a medium combining text, images and graphics.
Tip: To create a superbly animated, interactive and eye-catching PPT slideshow, follow the method explained in this article . The green background overlay and augmented reality of Rapidmooc Studios will bring your ideas to life!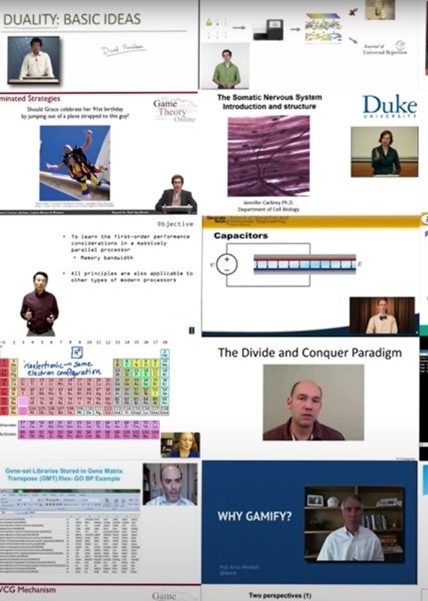 Videos: sometimes, certain explanations need to be shown concretely to be clearer. Technical manipulation, presentation of an airplane cockpit… it is then possible to put a video behind you and comment on it, like TV journalists who comment on a sporting event or a report.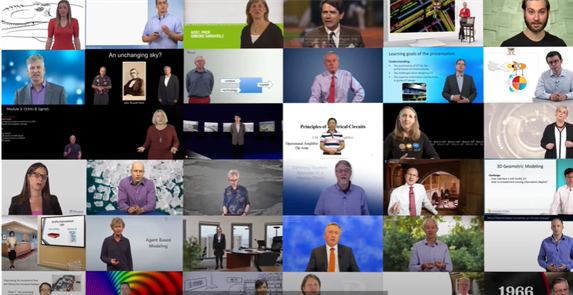 As previously mentioned, the visual conditions the learner's attention. It is therefore essential to build a sufficiently captivating (even hypnotic!) support to ensure that the audience's attention is kept from the beginning to the end of the MOOC. This is why we strongly recommend that you have a rich, well animated PPT file and that you record yourself with a Rapidmooc studio, which will amplify the immersive experience of your video.
Smile! Enthusiasm is shared faster than you think
Because we are naturally driven by positive mimicry, all we need to do is see someone smile or get excited to do the same. Good news: video works – almost – the same way!
Indeed, if the trainer is indifferent and monotonous, he or she will not arouse emotions and will engage the audience less. On the contrary, with a voice that changes tone or rhythm according to the speech, he can create surprise, fear, or any other vivid emotion that instantly refocuses attention. In fact, seeing someone who is passionate about what they are presenting is particularly magnetic. Fascinated by the show (the form), interested by the theme (the content), we can only adhere to the call of the speaker, and get excited – like him – to share this moment and the knowledge he carries (and which transports us!).
With over 500 studios deployed in more than 20 countries, we are working to facilitate the implementation of our all-in-one solution within universities and corporations. Looking for a new training tool? Contact us and revolutionize your MOOCs with Rapidmooc!