Why use Rapidmooc with
the Microsoft 365 suite
Microsoft 365 (formerly Office 365) is Microsoft's online collaborative suite of applications for working, learning, organizing, communicating, and creating.  
Used by more than 1 million organizations worldwide (including more than 730,000 in the U.S.), the Microsoft 365 suite has been a phenomenal success in recent years and has helped Microsoft get back to the top.
While the Microsoft 365 suite is particularly known for the flagship applications Word, Powerpoint, Excel, Outlook and Teams, it also has many tools that can really make your life easier, especially when combined with the use of a Rapidmooc studio.
We suggest you explore the most relevant use cases below.
How to use Microsoft 365 with Rapidmooc?
1. Create attractive presentation materials
Even if it is becoming a bit mainstream (beware of the " bullet point " abuse
) Powerpoint remains the reference for designing dynamic and creative presentation templates. Ideal for creating attractive content on which to embed yourself in video with your Rapidmooc studio, Powerpoint also allows you to enter a teleprompter text in the notes of each slide, that will be loaded and displayed during the video recording.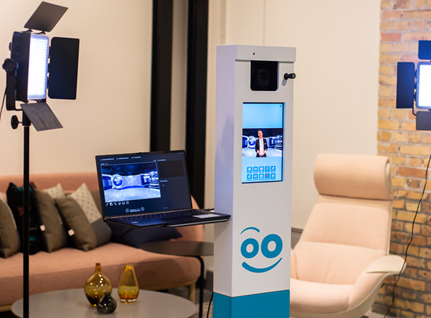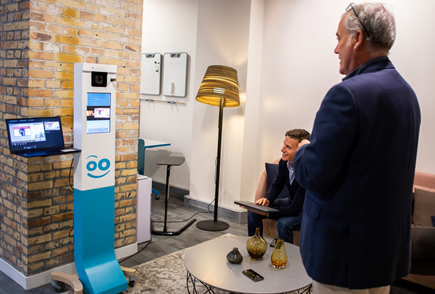 2. Facilitate meetings and courses remotely in studio mode
The use of web conferencing solutions has significantly increased over the past two years to the point where it has become an essential tool to help running the organizations smoothly. Microsoft Teams is one of the leading platforms and has experienced an exponential growth: nearly 150 million daily users by mid-2021 (Source Statista)!
Long before the COVID-19 pandemic, Rapidmooc pioneered the integration of webmeeting solutions such as Teams for making remote meetings more creative and fun. Since then, this specific use has intensified, responding to the exponential need to keep in touch with collaborators while offering a demultiplied interactive experience .  
Indeed, a Rapidmooc recording studio – usually set up in a 135 to 180sq feet room – offers an ideal environment for a speaker to experience the feel of a face-to-face discussion:
Additionally, it is possible to use several devices to "amplify" your live class and meeting studio:
With such devices, Rapidmooc helps to significantly improve the attention span and engagement of the participants and the overall quality of the exchanges. It is also an excellent way to set up an inclusive system for your meetings or hybrid training.
3. Store videos and presentation content
Our Rapidmooc studios work very well with USB sticks for importing and exporting content (teleprompter text, images, recorded videos, etc.). Nevertheless, the current trend is to lower the use of USB keys to comply with IT department security requirments.
Among the existing alternatives, the OneDrive storage solution – integrated with Microsoft 365 – is an ideal option: both easier to use and preferred by IT managers in terms of security, it is also available on Rapidmooc studios for file sharing in a few clicks, directly from the device.
4. Distribute videos via different channels
Simplifying video recording and making it accessible to many people is certainly the most important factor in Rapidmooc's success within corporations and universities.
However, it is also crucial to simplify the workflow of publishing and broadcasting. That's why Microsoft 365 is a solution that perfectly complements our production tool, offering numerous possibilities for sharing videos in different ways and with fine control over content access rights:
5. Studio reservation tool
Once your Rapidmooc studio room is setup,, it is necessary to setup processes for using it. Just like a meeting room, its everyday use will be optimized thanks to a booking system that clearly indicates the time slots available: Calendar or Microsoft Booking make it very easy to do so.
6. Monitor studio usage and customer satisfaction
You can find all the steps to follow in order to manage the integration of your studio here. We will focus here only on the post-test phase, where the collection of opinions and feedback is essential.
Creating surveys is a very simple and effective solution. Categorize the types of responses and collect all the data so that you can build a comprehensive report on the different phases of development.
Microsoft 365 includes the Forms application, which allows you to produce and distribute your questionnaires.
7. Manage your video project with Planner
Organization is often key to the success of a project. This is especially true when it comes to video production. Beyond the shooting, many prerequisites and logistical elements must be prepared beforehand, followed on D-day and monitored afterwards.
Structuring the timeline or proposing a vision categorized by type of task helps optimize project management and follow-up within the team. It is essential to clearly define the following different stages :
Below is an example of a table template, presenting a non-exhaustive list of checkboxes for the preparation phase.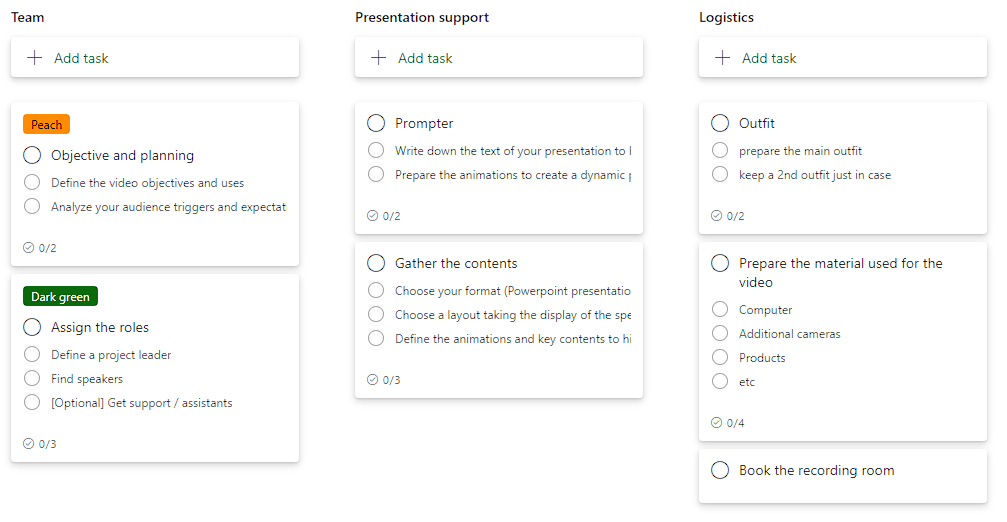 8. Fostering the employee experience with Microsoft Viva
Microsoft Viva is one of the leading platform dedicated to the employee experience, designed to promote engagement, training, well-being and knowledge sharing within the work environment. Intelligent, convenient and customizable, it allows you to share all the content that is essential to the professional development of every individual.
By sharing your content created with the Rapidmooc studio on this platform, don't hesitate to show the "behind the scenes" shots/visuals to spread the positive vibes and engage your collaborators around the collective emulation of a video shoot.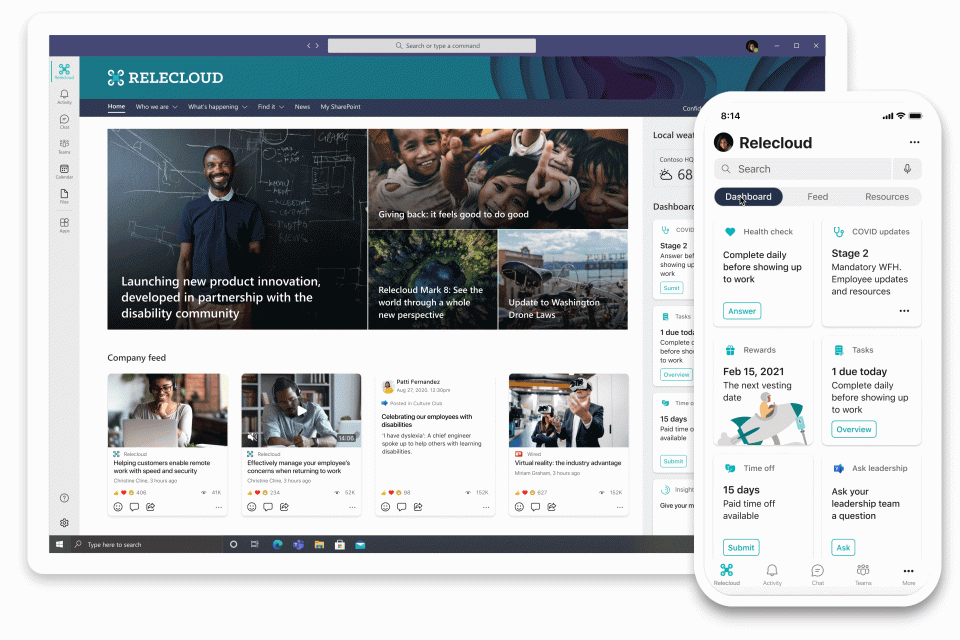 Rapidmooc is a recording studio usually installed in a self-service room. Our studios make video content production available to everyone. Given the considerable potential for shared use of this tool, it goes without saying that the number of users can easily exceed fifteen within an organization.  
To allow them to access their data and maintain personal usage settings, it is necessary to set up an authentication system, the Microsoft 365 suite allows this by setting up individual accounts from the start.
As you can see, the Microsoft 365 suite integrates many solutions that help optimize your organization on a daily basis but it also help enhance the video creation with a Rapidmooc studio.
With over 450 studios deployed in more than 20 countries, we are working to facilitate the implementation of our all-in-one solution within universities and corporations. Looking for a new training tool? Contact us and discover the Rapidmooc philosophy!