How MBDA is driving its digital transformation with Rapidmooc
MBDA (Matra, BAe Dynamics and Alenia) is Europe's leading missile manufacturer and the only European group capable of designing and producing missiles and missile systems to meet the whole range of current and future needs of the three armed forces (army, navy and air force). MBDA is a joint venture between Airbus, BAE Systems and Leonardo and has a presence in five European countries and the United States. One of the company's critical strategic focuses and challenges is internal training, having recruited several thousand new employees over recent years and with approximately 500 vacancies to fill in 2021.

A digital transformation strategy
In 2017, MBDA started using a training platform and modules for its new employees. Given the increasing amount of digital learning content and intending to standardise the process across all of France, MBDA decided to hire a National Digital Learning Manager whose role was to create and implement a digital transformation strategy for its internal training.
This national strategy had six primary goals: 
Help manage knowledge throughout the organisation

Drive digital and training change

Accelerate production of learning content

Shorten the duration of training

Reduce the cost of training

Improve employee effectiveness
To put this strategy into action, the Digital Learning Manager was looking to create a studio that would speed up digital learning projects and make them easier to produce. 
The Rapidmooc Studio was a vital part of the MBDA strategy.
"We were clearly set on using Rapidmooc, and that was even before the Covid pandemic,"
Florent Grisaud Varrier, Digital Learning Manager at MBDA.
"The demos convinced us that it would be the perfect solution for rolling out MBDA's digital learning strategy,"
Florent Grisaud Verrier, Digital Learning Manager at MBDA.
"Rapidmooc quickly stood out from all the other solutions mainly because of how quick it is to install and easy it is to use, giving us very professional results with zero video editing skills,"
Florent Grisaud Verrier, Digital Learning Manager at MBDA.
Help with using the Rapidmooc Studio
Very soon after first hearing about Rapidmooc, Florent Grisaud Verrier — MBDA's Digital Learning Manager — enjoyed a demo of the studio, met the Rapidmooc team and started to envisage setting up the studio in his offices. 
As part of its Customer Success Program, the Rapidmooc team guided and taught MBDA's staff how to create their first videos. The Customer Success Program was a way of training users and demonstrating the studio's full potential, which the company said greatly helped accelerate adoption.
A room was set aside for the Rapidmooc studio and the accessories (e.g. green screen and lights) that make it possible to create high-quality videos. The studio has had a significant and tangible impact on how quickly and easily digital learning projects can be produced, with several tests (AR/VR, virtual visits, 360-degree learning) completed every day.
Creating a framework to improve video content quality at MBDA
Creating a framework to improve video content quality at MBDA
The company also created a solid framework to make this initiative a success, with:
Five project managers trained to help and produce video content,

A first "Learn and do" programme explaining how to use Rapidmooc in 11 short videos,

A support scheme for internal trainers and any users who may use the product.
The aim was to make the whole video creation process much more professional and make users aware of the importance of this process and the steps to follow to produce a professional-quality video.
MBDA and Rapidmooc have forged a close relationship through which we provide active support for creating videos for training and communication purposes, and live streaming.
"The video about the implementation of new measures during the COVID pandemic were the first we decided to do with our Rapidmooc. Why? It's simple: we could have had this video made for €10,000 and each modification request would have cost another €500. But we quickly chose the second alternative – a Rapidmooc with which we could make this video ourselves at a similar price and which we can then use for many other projects."
Florent Grisaud Verrier, Digital Learning Manager at MBDA.
What specific types of videos are made at MBDA?
Multi-modal training material on cutting-edge topics such as Artificial Intelligence
Training videos created with a short turnaround on software, regulations and HSE (e.g. COVID)
  Rich media with storytelling elements

  Videos for sharing experiences from various projects and technology as part of a KM initiative
Presentation videos for new employees and onboarding
Communication projects with Rapidmooc:
Marketing video for a course
On the quantum computer using Rapidmooc to combine images of the teacher, the Quantum community manager at MBDA and the Chief Innovation Officer. We created a promotional video for the training programme that made employees want to learn more about this cutting-edge technology.
A review of 2020 and the objectives and roadmap for 2021 for the Electronics Department. It was a huge success, with 250 following the live stream on Skype with Rapidmooc.
An innovative and entrepreneurial initiative, using the digital lab to create training videos for other companies. MBDA trains and helps them to use Rapidmooc through their Learn & Do programme.
For MBDA, being a Rapidmooc owner also means being part of a community...
A sort of club starts to form with various users swapping ideas, methodologies and potential applications for the digital learning solution.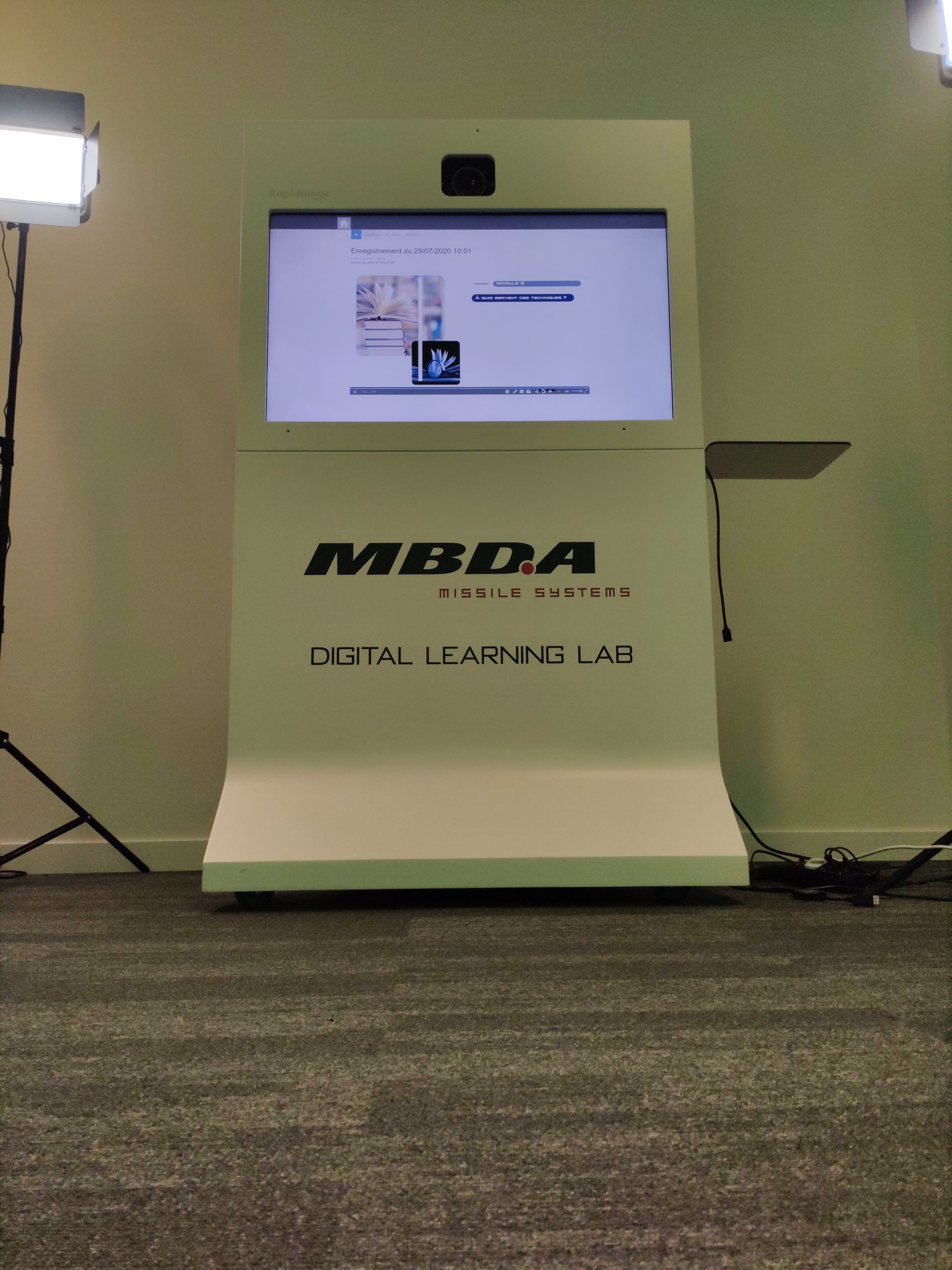 "Rapidmooc transforms how you act in front of the camera and our employees value being able to communicate a message themselves through innovative training materials."
Florent Grisaud Verrier, Digital Learning Manager at MBDA.
And what do people at MBDA think of Rapidmooc?
Given the Digital Lab received a prize at the company's Innovation Awards and used the studio regularly to create training courses or executive management speeches. It is rather obvious to see that Rapidmooc has become an integral tool for MBDA's Learning & Development team. 
Florent Grisaud Verrier, Digital Learning Manager at MBDA, also says that Rapidmooc boosts employee engagement, which can be seen by the growing number of requests to use the product.
And the Rapidmooc - MBDA adventure is set to continue...
Over 50 training projects will get created in 2021. The aim is to make video design and production projects commonplace throughout the company. 2021 will surely see at least a hundred pieces of video content created.