For more than 20 years, the Pedagogical Institute of Valais has been training new generations of teachers for primary and secondary schools. Divided in two campuses, French and German, the school welcomes more than 700 students. As they learn to learn, they are supported by a teaching team that must itself be trained in new teaching methods.

« My goal is that our children receive quality teaching to make them want to go to school. »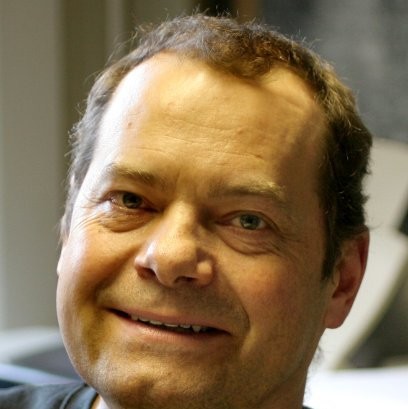 in charge of multimedia education at HEPVS
He is in charge of the technological watch and the digital support of the teams. He instills this dynamic of hybrid and innovative pedagogy, which the future teachers will also share with the children in their classes.
Need: Optimize co-modal teaching without being a digital native 
The school has been working for a long time to offer entertaining, comprehensive programs that are adapted to technological developments. It already had video recording equipment, which required a lot of resources. The investment in time, technical knowledge and use of a complex device required a minimum of technical skills and computer skills. This device could not be accessible to everyone, was time-consuming and required constant support.
Also, guiding learning by giving a clear direction remained a major challenge:
Before the pandemic, the 2022 objective was for 50% of teaching to be hybrid.
In 2022, the return to face-to-face learning, driven by the desire to reconnect with social interaction and campus life, calls into question the important part given to distance learning.
In the context of an environment that oscillates between on-campus student life and co-modal teaching, the flexibility of formats and access to content has become essential, with formats that are either asynchronous (video capsules) or synchronous (virtual classes).
Since all teachers aren't necessarily new technologies enthusiasts, it became necessary to find a much simpler solution. Despite the democratization of digital tools, not everyone has the same facility with a multitude of devices to use. 
Solution: Video within everyone's reach thanks to Rapidmooc studios
Thanks to its remarkable ease of use and the freedom to record independently, the Rapidmooc all-in-one solution has made this compact, turnkey studio accessible to any teacher looking for a recording tool that is both effective and captivating.  Even those who are resistant to new technologies and have a difficult relationship with their self-image have been able to overcome their apprehensions about the studio and understand its potential. Moreover, they come back to record themselves, without even asking for assistance!
Beyond the ease, it is also a question of saving time and self-confidence: as accompaniment is no longer required for the videos, more time can be devoted to the development of an innovative digital strategy. On the practical side, the fact of being alone allows to train confidently, contrary to a course given in front of an assembly, where the participants are attentive to the slightest mistake. Rapidmooc supports everyone's progress thanks to the right to make mistakes and to try again.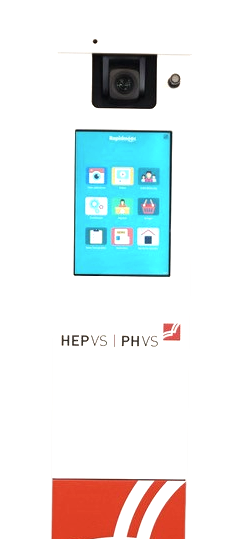 Equip each campus :
a really good idea
Each campus has its own mobile studio, allowing French or German speaking recordings. After an initial training and familiarization phase, users easily manage to use the tool to run their courses. The content is mastered and the form is improved with the green background overlay, which allows to present the key ideas instantly. 
Up to now, the users are only teachers, within the framework of training broadcasting. But in view of the ambitions of hybrid teaching and the new generations of digital natives, the question of creating reciprocity arises:
Opening up the studio to students would give a greater echo to the content created by the faculty and homogenize exchanges. 
This playful and interactive dynamism could provide a very positive impetus! In the form of increased collective excitement, it offers a virtuous circle in the learning journey, both for learners and for instructors.
At a time when it is essential to captivate your audience, which can be made up of 25 students in person and 5 at a distance, the studio also allows you to play the surprise card. For example, at Christmas, a video was made by embedding a fireplace from which a teacher emerged. Collective concentration guaranteed!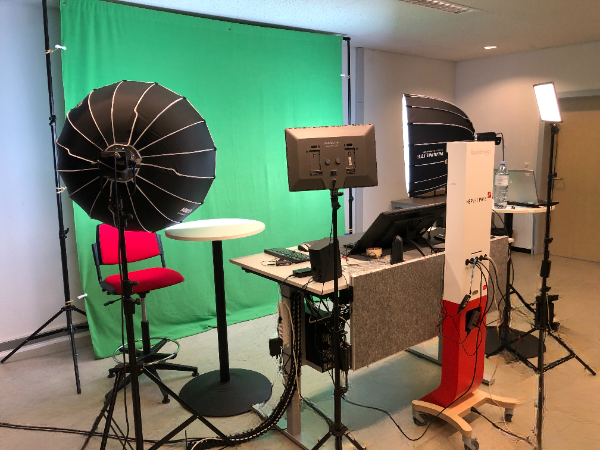 A classic studio rental for a day costs almost the price of a Rapidmooc studio and allows you to make only one video, while the latter allows you to make as many videos as you want, in a few minutes!
of teachers use the studios
Professional
quality videos
Design a new building, a modern campus that would reinvent the spaces, whose foundations would no longer be simple classrooms.
Offer more micro-training sessions around the use of the Rapidmooc studio, which would be open to students
Use immersive backgrounds to take advantage of the augmented reality feature
To position itself as a competence center where other institutions could come and test this kind of innovative device and progressively integrate it into their development.