How to use digital learning to support and scale up employee development
It's safe to say that digital learning is here to stay. We're going to tell you all you need to know to enhance/maximise your existing program or develop a new one so that you can remain effective in supporting your organization's talents development.
First, a quick  definition. What exactly is hiding behind the words digital learning? It includes:
Essentially, it is carried out via the Internet, electronical devices, where students can access their learning materials online at any place and at anytime. In addition, digital learning often attempts to simulate the traditional classroom or learning experience. This is important to bear in mind when designing these experiences, as we will see.
Why virtual training is a must
Before we get into the hows, let's talk about the whys. An impressive 71% of CEOs view human capital as the leading source of sustained economic value. Aside from economics, training also plays a huge role in helping your employees succeed, boosting productivity and keeping them invested in the company long term. This is significant in the context of the great resignation where 40% of the workforce are considering leaving their current employer within the next year. So, if the benefits of upskilling are clear, why do it online?
There are several key benefits of online learning vs traditional face to face learning:
The cost effectiveness. Companies can expect to save between $9,550 and $15,870 per course that they put online. For the trainees, this will translate in reduced costs for resources, travel and tuition fees.
Flexibility is also a clear benefit. Accessing your learning content remotely is great as is the freedom to study and complete coursework at any time. Quicker and immediate feedback from teachers is also a plus. To cut the story short, digital learning give students more autonomy.
What's more, courses can be easily personalized; online platforms make it easy to offer relevant content for employees.
Most importantly, digital learning is scalable . It can be easily developed or adapted to meet user and business needs that are in constant evolution. Indeed, as the eLearning industry publishing platform writes, "with online learning, it's as easy to train an audience of 5,000 as it is to train 50". Content can be swiftly updated to meet the changing demands of the workplace. Scalability and Agility are key outcome to the success of Digital Learning
With this in mind, we'll now take a look at a few ways companies can support employee development remotely.
The first key is to utilise MOOCs. These massive open online courses may appear at first glance to be reserved for those looking to take university courses on a budget. In fact, some of the largest corporations, including Google and Yahoo are using them to train their employees. Given that PwC's latest Global CEO survey suggests that 55% of CEOs are not able to innovate effectively due to skills gaps, it is only natural that MOOCs could be considered to fill in said gaps. Employees too, have something to gain. Many lack the time or money to dedicate themselves to study, yet want to be better at their jobs or more employable in the long term. These short and free online courses can be a great option especially when you consider that only a small percentage of employees receive employer-funded training or are allowed time off to study.
In addition, there's certainly no shortage of content available. There are already over 16k courses available, and this growth is only expected to continue. An excellent way then to stay ahead of the curve.
A small caveat is that the majority of these courses do not deliver recognized diplomas, however certificates of completion are beginning to be recognised in the professional world. Hiring managers do take note of employees who invest in online learning, the majority valuing their ability to work independently, and considering them more likely to be promoted or to receive job offers. Finally, while only 5% of employed learners receive support from their employer for completing their MOOCs, the completion rate rises from 15% to 58% when they do. A strong signal that they are invested in their personal development (and thus the success of the company), they just need their employer's approval and support.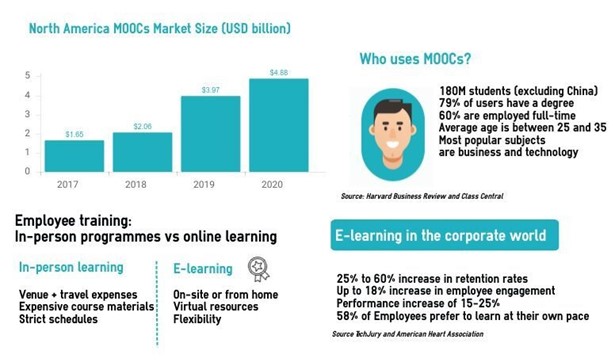 Fund Employee's Online Degrees
Employers can opt to fund employees' online degrees. Usually developed by traditional universities, these courses take a longer time to complete. The good news is that employers value these just as much as degrees earned in traditional classroom settings. In fact, the pandemic has only improved employers' view of online education, with 75% likely to hire applicants with this method of learning. Still, the price and time investment may be a prohibiting factor for some employees looking to boost their skills. In addition, from an employer point of view, many traditional degrees don't offer the skills required by today's workforce (although many Universities on the forefront of innovation are developing innovative courses, such as online MBAs for example). Many employers prefers their employees to follow 'targeted programs focused on areas of career growth', as described by Emeritus.
Utilise Virtual Classrooms
Now that we've spoken about MOOCs and online degrees, we'll briefly touch on virtual classrooms. These are another highly effective way to train employees remotely. A great way to do this is via video conferencing (think Zoom or Teams). This way students can see their instructor and discuss in real time, just like in a typical classroom. It's important, however, to adapt classroom methodologies and content to an online format. Not only this will ensure learning outcomes are positive, it will also ensure students remain engaged as you utilise the tools at your disposal effectively. In practical terms, this could mean highlighting the student-teacher relationship by greeting students, recreating group learning structures and utilising different teaching mediums (videos, slides, breakout rooms, quizzes, essays, etc.).
Technically speaking, this means using the right equipment by investing in all the necessary gear, including webcams, headsets, software and peripherals that'll be essential for delivering effective classes. It may also mean making use of Rapidmooc's  all-in-one video studio to create your training programs and carry out your virtual classes in style. With its full HD camera, slim design on wheels and a super accessible/easy to use application powering the lot, our studios are ready-to-use video recording stations, that opens up a range of possibilities (video special  effects anyone?yes and without post production or technical skills) … all you have to do is bring your ideas to the table.
With all of that said, make sure to keep things fun! Indeed, research shows that not only does enjoyment help keep adult learners motivated, it also aids in content retention and supports social connections.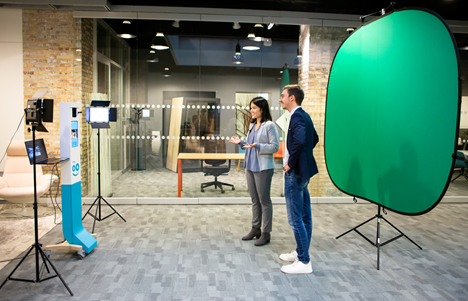 Reaching Towards Towards Long Term Success
From the above, It seems  pretty clear that Digital learning is vitally important to ensure the development of employees, especially throughout a health crisis as we unfortunately witnessed in the past 18 months. Optimising the use of MOOCs, virtual classes and other means of online training can be the difference between a struggling organisation and a high-performing one where employees' are motivated, productive, and in it for the long haul.
Did this article help you? Feel free to check out Rapidmooc's offerings to support you in your employee development, allowing your company to be at the foray of this new working world.