How to develop your soft skills with the Rapidmooc studios?
Building a career is based on one constant variable: employability. From the search for one's first job to one's career prospects, everyone has the choice (if not the obligation) to develop their skills, including their soft skills. How to define them? What are the best practices to work on them? Once assimilated, how to improve them? Thanks to the video, the Rapidmooc studios are the driving force throughout this progression of soft skills. Discover the method used by many Rapidmoocers whether in universities or in companies
Behavioral or soft skills are above all human qualities. Initially, this term appeared in opposition to hard skills, meaning technical or academic skills. Nowadays, this notion has been democratized and is an integral part of the recruitment process. In fact, no less than 90% of HR and marketing executives are familiar with the concept.
Indeed, soft skills are primarily used in a work environment. Then comes the personal environment. Here is a non-exhaustive list
judgment and decision making
audacity, sense of innovation
Why it is essential to work on your soft skills
On one hand, the numbers speak for themselves, mastering these behavioral skills seems to be a condition for professional success:
The Stanford Research Center, Harvard University and the Carnegie Foundation have found that as much as
of anyone's career success comes from excellent behavioral and people skills.
According to a study by Microsoft and McKinsey,
of future jobs will be based on social-emotional skills.
At the Talent 2020 conference, it was shown that
of recruiters confirmed that soft skills are essential. However, 18 months after their first day on the job,
of employees still fail to fully succeed in their position.
fail because they lack the soft skills that allow them to integrate well or overcome professional shortcomings in their position.
According to MIT management, the return on investment for soft skills training can be as high as
According to Linkedin, the top 3 key soft skills companies akre looking for are the same since 2019 :
executives emphasize that the work environment plays a key role in identifying behavioral assets.
Organizations are increasingly integrating soft skills criteria into their recruitment processes, from CV analysis to follow-up meetings, including the job interview. Now, more than ever, organizations need employees with good interpersonal skills and, more broadly, behavioral skills that facilitate collaborative projects and teamwork, both in person and remotely.
Soft skills are present right from the student years, without the learners even being aware of it. As the breeding ground for the right reflexes and reasoning, educational courses are littered with exercises that stimulate behavior: group work, team projects, role-playing… it is important to guide students as early as possible, so that their entry into the world of work is intuitive and not intimidating.   
How to develop and improve
your soft skills with the Rapidmooc
According to Indeed, here are the key steps to work on your soft skills
Get out of your comfort zone
Be ready and keen to learn
Build positive relationships
Adapt to changes in the work environment
Know how to manage conflicts
Take on roles involving leadership
For this, the will to improve and the attention paid to one's environment and good practices are precious, combined with training, advice from one's entourage, guidance from coaches or training with friends.
It should be noted that unlike hard skills, which are tangible to teach and acquire, soft skills are less dependent on immutable principles or a predefined formula. For example, for a trainer, teaching the art of patience or perseverance cannot be done without taking into account the personality or sensitivity of the learners. This is a remarkable challenge when we know that each personality is unique…
The right tools can also give the right impetus to develop your soft skills considerably. This is the case with the Rapidmooc studios. Indeed, they allow you to learn, understand and practice these behavioral skills assiduously, with the possibility to start over and over again while measuring your progress thanks to the mirror function, which allows you to visualize yourself throughout the exercise. The Rapidmooc all-in-one video production device offers the possibility to work on these 4 points:
With self-directed, self-serve video creation and no need for technical skills, there are no limits to oral and visual expression (except perhaps everyone's creativity).
Working on content and form is a constant exercise with Rapidmooc studios, which require preparing the PPT beforehand and then speaking in front of the camera, either synchronously or asynchronously.
Communicating regularly, internally, externally, in small groups or in front of an audience, requires non-verbal language, which is essential to give a dynamic to the speech. Find out more about the keys to body language in this article.
Generally, shooting content with Rapidmooc studios is done with several people, the experimented users guiding the neophytes: but always in a good mood and with lots of good ideas!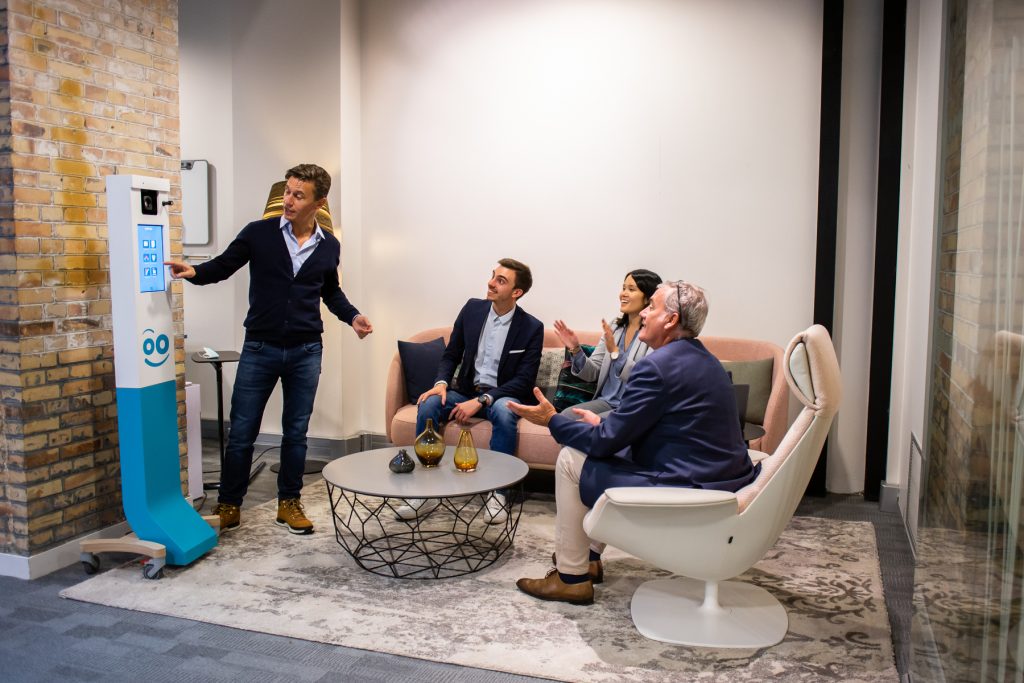 This is related to the openness to feedback, in so far as the presence of other people allows one to better identify one's points of improvement, in a constructive and objective way, in addition to the instantaneous visibility on the studio screen of one's outfit and performance, to better control one's image.
The relationship to image and the ease of public speaking being very variable according to individuals, it is important to dare. By inspiration and documentation (like these 6 tips for speakers), but also and above all by practice.
That's why video recording has been fully integrated by a Rapidmooc client (CFA CODIS), whose 3.0 campus has been hosting a Rapidmooc studio for more than 3 years now: the students' program includes recording sessions, whether it's to create video resumes, do team building, illustrate job offers… or conduct recruitment interviews!
That said, we are not talking about taking any risk: technological innovation allows for the development of soft skills, but in an environment that remains familiar and recognizable. Rapidmooc studios are often customized to the colors of the organizations they belong to : this is the case of l'Occitane, whose device has been named l'Occitube! (more info in this case study) (link to the Occitane case study))
Repetition is the key: with Rapidmooc Studios, you can create, edit, visualize and start again, all on the same device, in no time.
With practice, the improvements will be more and more visible! This is why our clients use this solution for media training: while students practice being ready for their interviews and for the working world, managers and other profiles are more used to public speaking and need this regular practice to acquire the right reflexes and be prepared for any eventuality for their next interviews.