Queen Margaret University's (QMU's)
Digital Learning Transformation
with Rapidmooc's One-Click Videos 
Queen Margaret University (QMU) in Scotland offers practical courses in areas such as health sciences, social sciences, business, and teaching and is known for their person-centered and career-focused approach to education and teaching. However, they faced a common challenge: how to create engaging online course content efficiently. 
The Old Way:
A Time-Consuming Process 
Creating video content at QMU took a lot of time and effort. The team had to move equipment to different places on campus and spend hours setting up before filming could start. After filming, their videos still had to be edited and published, which made this process even more time consuming. Making videos was slow and labor intensive, limiting how many online courses they could produce. It was therefore extremely difficult to keep up with the university's growing demands.
Enter Rapidmooc:
One Click to Professional Video Content 
Rapidmooc was introduced to QMU with the intention of streamlining video creation and to reduce their filming and editing time. The platform was designed to be simple, so educators and experts could film professional quality videos on their own, without the need of an audio visual team. With Rapidmooc, all their users needed to do was connect a laptop with their presentation to the Rapidmooc studio, stand in front of the camera, and begin recording. The user-friendliness of the system made it easier for people at QMU to make online course videos more efficiently without sacrificing quality.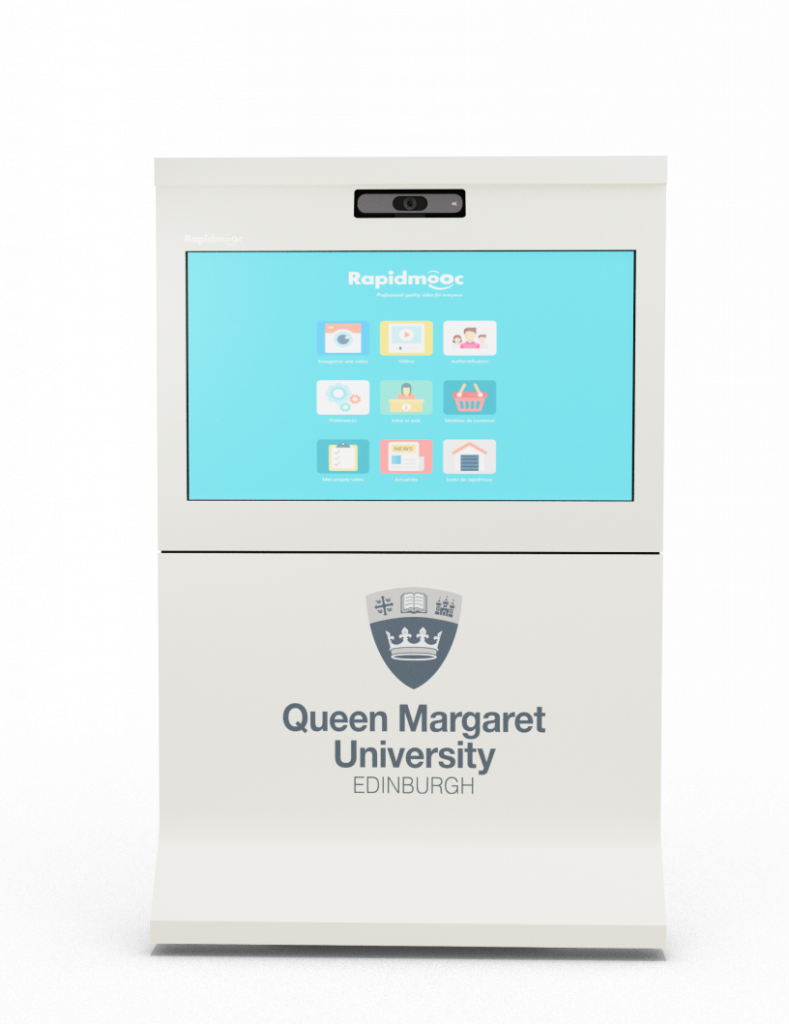 The Rapidmooc Effect: Benefits at a Glance 
With Rapidmooc, QMU has made over 750 videos and continues to make on avarage 25 new videos every week. 
The new process is faster, saving the university about an hour for each video. So far, they have saved 750 hours in total, averaging 25 hours a week.
Rapidmooc is designed so that anyone at QMU, whether they're a teacher or a student, can use it to make videos.

Media Services Technician
The best part about Rapidmooc being so good is that everyone is talking about it and everyone wants to use it
Beyond the Classroom:
Rapidmooc's Versatility 
Queen Margaret University set up a dedicated recording space for their Rapidmooc for anyone to book and use. Since then, Rapidmooc has been used in a variety of ways
Lecturers have created high quality, engaging video content across a variety of courses, including primary school education, nursing, health sciences, occupational therapy, and business studies. 
Students use the Rapidmooc studio to work on their speaking skills and create individual and group presentations. 
Administrative and academic staff have used Rapidmooc to create internal training videos, which has helped improve the quality of education provided to students. 
The Future Looks 'Rapid':
A Continuing Partnership 
Rapidmooc has become an important part of how QMU teaches students online. It has provided them with a scalable method for producing video content and the university plans to keep using it to help improve their online courses in the future.