Memo for creating
a training video
Creating a training video requires working on both content and form. The two complement each other to ensure an optimal learning experience and an assiduous commitment to the course.
How do you choose the format of your video? How long should it be to capture the learner's attention from the beginning to the end? Which of the Rapidmooc studios' recording modes should be preferred depending on the type of video to be produced?
With this memo, you will have all the necessary cards to produce a complete training program, tailored to its planed distribution channel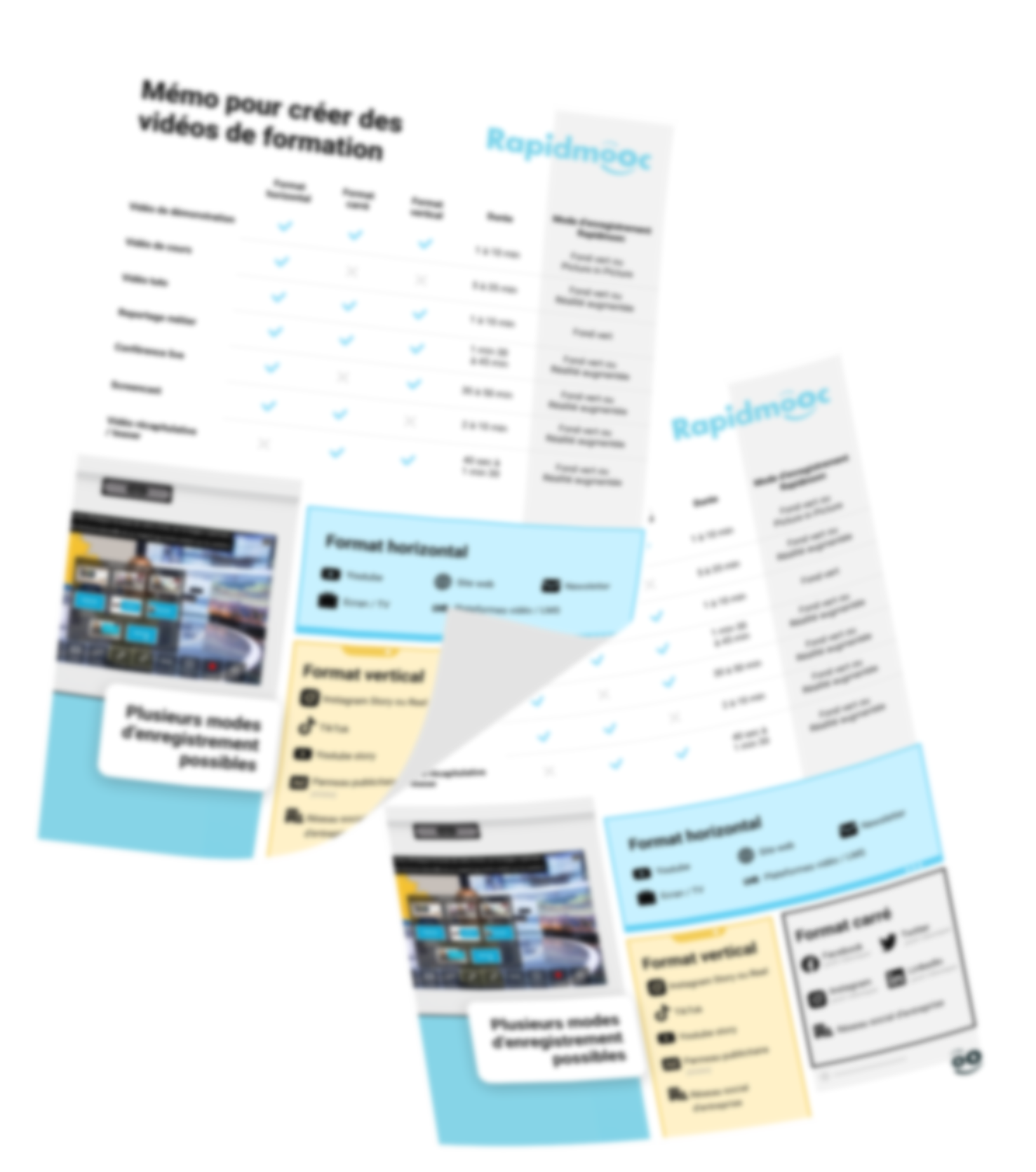 Download the
free Cheat sheet
The structure of an effective instructional video is based on a golden triangle. First, it is essential to have one or more trainers, who carry the message to be transmitted orally but also with their non-verbal language. Then, the speech is based on a presentation support (for example PowerPoint or Canva) which is easy to use during the explanations. Finally, the creation of the video involves anticipating the channels of distribution of the video, to choose the format, the duration, etc.
With the help of simplified software for creating animated and dynamic media such as PowerPoint or Canva, it is very easy to use these slideshows as a background, embedded behind the speaker, or as an overlay to the speaker's reality, thanks to augmented reality. To do this, all you have to do is record your video on a Rapidmooc all-in-one recording studio, which makes this possible in a few clicks thanks to the application integrated into the video booth.
There are several solutions depending on the phase of video production to cover. For pre-production, presentation tools such as PowerPoint or Canva allow you to create good frozen or animated supports. Concerning post-production, depending on the type of video to be created, there are tools to create creative edits via a simplified editor (such as PlayPlay or Pitchy) or an advanced one (with Adobe Première Pro or with the help of a complete external studio, including space, equipment and technicians). A single tool brings together these two steps around the shooting phase: the Rapidmooc all-in-one recording studio. It allows you to record a video from media to be integrated behind or in front of the speaker, as well as a digital prompter to help control the speech, while the integrated application adds custom video effects.