Training contents and trends for 2022/2023
According to a Dell and Think Thank Institute for the Future study, 80% of the jobs that we will find in 2030 do not even exist today. This metric is really underlaying the ever-changing nature of work in the digital age.
As for our field, it is bound to evolve as well and today's training will certainly not be the same as tomorrow. This is why we decided to compile a list of training content and trends for the 2022-2023 school year.
1. Online courses are deployed on a full-scale
Although they no longer need to be presented, online courses are still very popular! According to an Edflex study, the video format is even the most effective training form.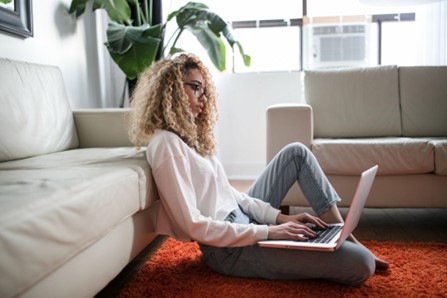 Online courses offer so many possibilities that it is hard to imagine training without them! Funnier than e-books, they allow the teacher to share content on a PowerPoint-type presentation while pinpointing to key elements and display the teacher body language, key to maximize learners' engagement. Solutions such as Rapidmooc Studios enable the creation of these types of content without having to do any kind of editing.
One of the big positive points of this type of training is that online courses produce 85% less greenhouse gases (source: SHIFT). In addition to being more efficient for the learner, they are also good for the planet
2. Sharing experts' knowledge
Master classes are conferences during which speakers share their experience on a subject and invites participants to discuss it.
This online training trend emerged during the lockdown and is now well anchored into the training field. The Master Class explores a topic in depth during a 1- or 2-hours session.
This type of intervention is usually based on a PowerPoint support, presented by an expert. Not bragging but the Rapidmooc studio is therefore perfectly adapted to this training trend, especially since it allows for live video effects!
3. Training through listening
Podcasts are becoming an increasingly important part of users' daily lives. Their format allows for consumption regardless of the location: while commuting, at the coffee shop, walking down the street, etc. The ease with which they can be consume makes them excellent training aids!
In addition to being practical for the user, they also require less production resources since they do not require a visual support and rely more on the imagination of the listeners.
Today, podcast creators are working to make them as creative and interactive as possible. This can start from the conception stage, in which Rapidmooc studio can help than with its integrated podcast recording mode.
4. Webinars are still there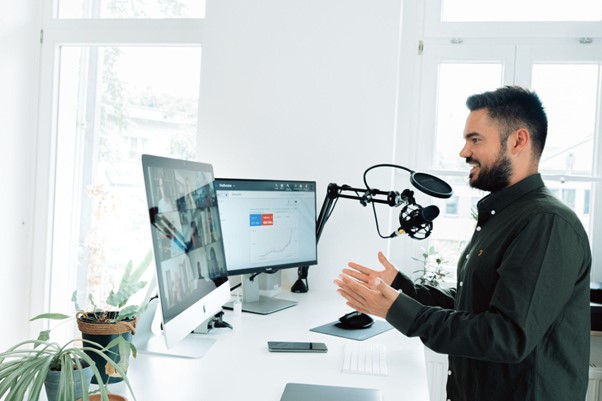 Who hasn't already received an invitation to a webinar by email or on LinkedIn? These interactive meetings are still flourishing and cover a wide range of themes: from "how to successfully manage your brand on social networks?" to "How to get better organized when telecommuting?" passing by " Which tools to use to successfully communicate remotely?"
Well! You are not about to see the end of it because the webinar is well and truly part of the 2022-2023 major training trends. We can even tell you with certainty that you will see the following webinar: "How to prepare for the new school year?"
Finally, these webinars have the advantage of being short (usually 1 or 2 hours) and full of useful information. In terms of production, they don't require a lot of resources even if they tend to get more and more professional. Being fun and interactive, they are more captivating when they manage to create surprise, incorporating strategically positioned video effects for example. The latter is very easy to achieve with a Rapidmooc studio, thanks to the multiple recording modes that can be leveraged and broadcasted on your favorite webinar platforms.
5. Learning through micro-learning
Also known as nugget learning, microlearning or snack content offers content cut into small parts that are more easily digestible for the learner.
The organization of these training courses requires the design of a course content with a grammar that is easier to understand to get straight to the point and avoid losing the attention of learners.
This training trend allows us to reach more ambitious goals by seeing small to see bigger! In concrete terms, the trainer creates short video formats of 10 to 15 minutes that can be quickly viewed by the learner. They can watch one at a time or link several videos together.
6. The focus is on the learner
Among the new training trends, behold the "Learner Generated Content"! Behind these words, (which may seem barbaric at first glance) is hiding a very simple concept: the learner produces the content, and the facilitator uses it to achieve the training objectives.
Practically, it means that learners can film their practices or queries they might have (with the help of a Rapidmooc studio for example😉 ), so the trainer can build his pedagogical content from these experiences shared by the learners.
This method has the advantage of really responding to actual challenges faced by people during their daily tasks, and thus, improving the acceptance of the training concept and engagement levels.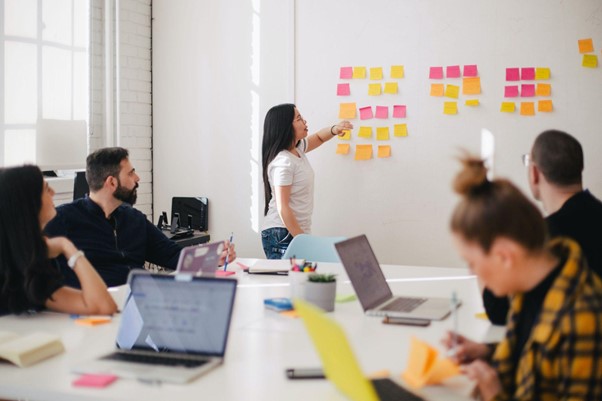 Who says training can't be fun? Thanks to the concept of gamification, which uses the power of games in contexts other than entertainment, training becomes as simple and fun as a game!
The application of player codes allows learners to take on different roles and follow challenging rules throughout the day to learn on their own and achieve the training objective.
This training trend reinforces commitment and encourages the right to make mistakes while reinforcing the desire to win, which allows for better learning by participants.
8. More collaborative and social training
With the rise of remote work, employees feel the need to interact with others and to belong to a group.
We are seeing more and more communities of learners and it is expected to continue expanding in 2022-2023. These groups are made up of people who learn individually at their own pace, while having access to a place to exchange with their fellow learners. It is a training mode based on mutual aid and positivism that allows to rebuild the human relationship lost in online training.
This training trend requires a facilitator who encourages learners to share their experiences and help each other. This can be done through regular animation with videos, challenges, infographics or snack content. Our Rapidmooc user club on Linkedin is a perfect example of collaborative training
9. Training adapted to the latest news
The pandemic has allowed many of us to think more about what we want for our personal and professional future. We've all changed a lot, and so has our desire for education and the topics we want to learn about.
Yves Leheurteux, Senior Content Delivery Consultant EMEA at Cornerstone OnDemand points out in an article for the ElearningLetter that the most requested training topics have changed significantly as a result of the health crisis.
Today, learners are more interested in learning about topics that will help them grow as a person, such as personal productivity or personal well-being:
At the same time, training on topical issues such as the environment or diversity and inclusion is attracting more and more learners.
10. Artificial intelligence and learner immersion
Mark Zuckerberg announced it in October 2021: "The metaverse will be the successor of the Internet". For the moment, this concept is much talked about but few people really understand it.
We can imagine that this virtual place, decorated with fictitious objects but markers of a certain reality, will also have its own world of work and training.
Moreover, PwC has already conducted a study on this subject, indicating that the immersive learner is up to 4 times more concentrated than his e-learning counterpart with a better memorization of the contents. This training trend should therefore be one of the most promising in the years to come!
There have been many changes in training since the health crisis. This event has led to the evolution of certain training modes and the creation of new formats.
All of these training contents and trends are to be adapted to the objectives of each organization, some of which are more appropriate than others. However, it is a good idea to be aware of them to continue offering innovative training content that meets the challenges and expectations of your learners.